10 May 2016
atm we only have 250gb but we should have 500gb so im making that happen
every thing should go smooth
wish me luck! ill be posting updates so keep an eye on the site
ALSO people can't register cause the site license is needing reactivation i plan on doing that soon!
UPDATE: so tried to dl the stuff to my hdd and thought hummmm why not try the backup storage i get for free ... so i do ... and turns out its quite simple to mount it as a drive though the speed for uploading still hasn't improved too much as i can DL at 100mbs the transfer is going at about 100+mbps on average so a bit faster than my home connection. but my home connection can not upload as fast only ... 22 mbs while reading from my back up to my server i can grab files from my backup at 500+mbs
so a lot faster though time has run out for me and i must sleep the server will be back up before tomorrow
i can guarantee it! if not late tonight!
UPDATE 2: files on the backup and im reinstalling the OS
update 3: server is up 12:22 pst
re added Bibliocraft
re added sync mod
re added betterstorage
06 May 2016
04 May 2016
26 Apr 2016
i have some money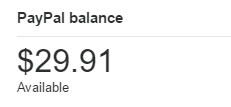 GOAL - 79$
​help us reach that and i think we will live another month ofc it helps us alot if we can go over that so i can buy time on the server for longer periods
29 Mar 2016
heads up next wipe is the 31 set your base building calendars
Site Navigation
0 members, 2 visitors and 0 anonymous users
1,918

Total Posts

1,226

Total Members
Dragphan Newest Member

68

Most Online
2 users are online (in the past 15 minutes)
0 members, 2 guests, 0 anonymous users (See full list)